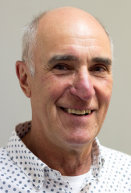 Riverstones CAP Debt Centre Manager Pastor Graham Sunderland
Riverstones is the official CAP Debt Centre for Upper Hutt offering free help and a combination of advice, financial education, budgeting and insolvency services.
Christians Against Poverty (CAP) is an international debt counseling charity with its Head Office in Auckland and a growing network of centres throughout New Zealand.
The CAP Upper Hutt Debt Centre Manager is Pastor Graham Sunderland. Staff are already visiting clients and families to help them with budgeting and debt issues.
CAP has 51 debt centres around New Zealand and aims to help release people from the burden of debt and offers wrap around holistic support emotionally and practically for their journey towards becoming debt free.
CAP's services are accessed by contacting the charity directly and clients are then referred to their local Debt Centre.
A local CAP debt coach visits new clients with their families to understand their financial situation and other support they may need. Professionally trained credit liaison officers in CAP's head office then negotiate with creditors on the client's behalf, offering repayments the client can afford.
By working with local utilities and national financial institutions, CAP aims to offer a sustainable solution that helps breaks the cycle of poverty and creates a budget allowing clients to both repay their debt and allow for their own needs.
Need Help With Debt? Tel 0508 227 111 to contact CAP